As travelers are leading the way in a multichannel, multi-device environment, new ways of influencing the online travel shopper are emerging. Improved user experience, mobile, merchandising, user-generated content, post-purchase services and more could be the next key loyalty drivers that matter most to online shoppers.
Online travel agencies can harness proximity technology to enable travelers to book hotels, rental vehicles, tickets for trains, airlines, buses and theaters; and even dinner reservations.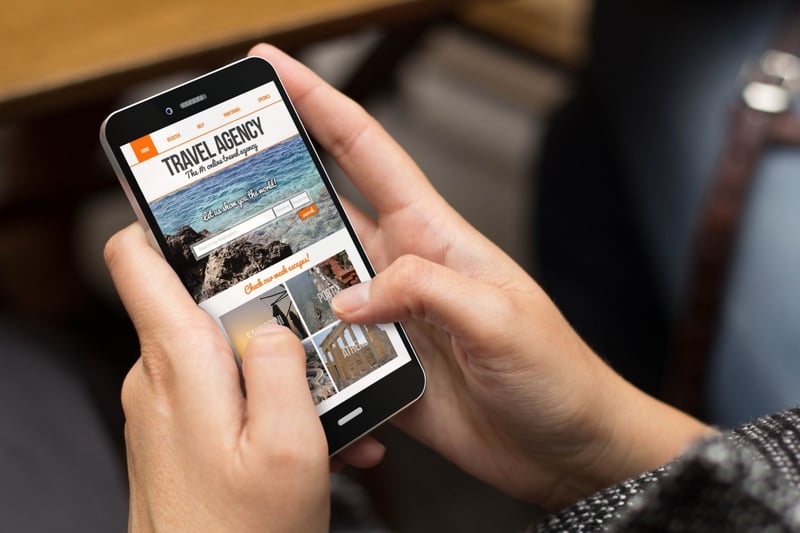 The use of mobile for travel bookings
According to Pew Research Center, 89 percent of Americans have reported owning a smartphone or accessing the Internet on at least an occasional basis. Moreover, the online travel sales worldwide will achieve 755 billion U.S. dollars in 2019.
Mobile users have made extensive use of OTAs and booking services:
By 2019, mobile sales could represent 46 percent of digital travel sales
Furthermore, mobile devices play an integral role during travel. A research by Tripadvisor ( Mobile & Social Survey) finds that 87 percent of global travelers use mobile devices while traveling and 61% of them report using Social Media while traveling. How travelers use their smartphones on holidays?
61% rely on smartphones for accessing and sharing in social media

58% is looking for restaurants and hotels

27% is looking for things to do

24% is reading reviews
Driving mobile bookings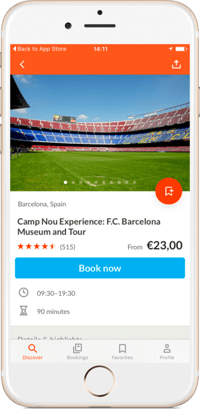 Proximity marketing seeks to create amazing and unique experiences for online shoppers. Upon a tourist's entry into a particular zone or establishment, such as a hotel that the tourist has already booked, the OTA is able to send announcements and offers regarding restaurants, events and other attractions in the vicinity.
An effective proximity marketing campaign goes beyond merely detecting the presence of a mobile device and its user. Online travel agencies can collect information such as the traveler's age, marital status and number of children (if any), most visited places, preferences and travel behaviors to target travel services and deals. For instance, tourists with children may receive information about local zoos, museums or amusement parks upon entering a geographic area or a site. Notifications about a jazz festival might go to travelers who prefer music and festivals. Someone looking for adventure at a beach area can receive messages for parasailing services.
Geofencing
With a mobile app, a traveler receives an alert, message or offer upon entering a particular geographic zone, or virtual fence. The mobile app allows the online travel agency to detect the traveler's presence within the fence.
Geofencing works for online travel agents trying to attract customers in a general area, normally at least 100 meters away from a place. For example, upon approach to the vicinity of an airport, a visitor may receive mobile notifications to book airline tickets, visit gift shops or rent a vehicle. In particular zone of a city, village or other tourist destination, a geofencing can be used to drive awareness and enable visitors to book local restaurants or hotels; buy tickets for attractions, museums, concerts or other events; or shop retail malls and outlets.
Beacons
OTAs may employ beacons for visitors who enter a specific place, often indoors, rather than a general area. A beacon is a Bluetooth Low Energy (BLE) device that transmit signals normally up to 50 meters. Smartphones can detect beacons when the user passes by a place, but actually stays in a location, for example, passengers who enter a train or bus station or airport
An OTA might use beacons to advertise deals on tickets. Guests in a hotel or resort can receive personalized offers, such as discounts with affiliated restaurants, nightclubs, retail stores and museums, through their mobile devices.
As with geofencing, connection to a beacon requires an app from the online travel agency.
Proximity Marketing for connected travelers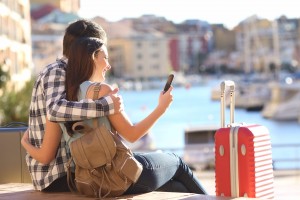 With proximity marketing, advertising reaches the tourist who is not aware of what he is going to need; hasn't decided whether to take a self-guided journey that requires a rental car.
Proximity marketing affords flexibility and convenience for planning vacations or trips. In many cases, tourists can avoid the need to decide on the itineraries and make reservations before the trip. Now, travelers can explore on the go once they arrive and choices and arrangements can be made at the destination. They can buy tickets to nearby or area shows, tours or other events or reserve rental cars.
By using online data, mobile app data and location information, OTAs can provide personalized recommendations to consumers for booking additional services, enhance customer relationships with a sustainable brand loyalty and enhanced customer lifetime value (CLV).