Privacy concerns by mobile users are a natural reaction to new technologies and the lack of information sometimes aggravates the situation. Read on to discover how location technology works in terms of privacy and how companies are handling it.
Collection of information
Location can be useful to do a lot of things, for example, find a lost phone or apps can provide location-related services like finding restaurants nearby, transportation information or location-specific offers, making our lives easier.
Applications can access your phone's location services, so, it's up to your apps to behave like good citizens and request your permission to be located. For iOS-based apps Apple's location services are used, while in Android-based apps Google's location services are generally used.
These location services leverage GPS signals and the location of nearby cell towers to estimate where you are. In recent years, these location services also began noting the MAC addresses of nearby Wi-Fi networks, adding additional precision. These can be accurate to within 3 - 3.6 meters (10-12 feet), depending on your proximity to Wi-Fi routers. On the other hand, location-aware services that use low-powered beacon technologies are not receiving any information about users at all. Only when users install a beacon-enabled app, permit location-based services and enable Bluetooth on their smartphone, is the app then able to learn about places the user visits and actions he performs within the app. Moreover the app does not need to know the user's name, ID, email address or phone number so the user identity is protected. Therefore, in the case of beacons, users have full control of their privacy by granting or rejecting permissions to a particular app.
From the analyst's point of view, location interactions are not so different from web analytics: location-based platforms will basically register, under an anonymous ID, information related to the device, location and the beacons the user has interacted with. So, they do not necessarily record personally identifiable information.
Each country has its own legislation and each company has its own privacy policies about consumer tracking but there are several options to opt-out of location-based services as it leaves the power in the literal hands of the user: the user needs to download an app, permit location tracking, enable notifications and turn Bluetooth on. The power of being "tracked" is entirely in the hands of the mobile user.
Use of Information: Analytics in the real world
Personalization without analyzing data is impossible, and giving consumers information that they really care about creates strong relationships between users and companies. This is a win-win situation for both. Unfortunately, there is a lot of spam sent every day.
If you want to provide a real customer experience it is important to get deep users insights; it is necessary to capture and process data to extract information, which enables the delivery of personalized content. Furthermore, building loyalty programs based on purchase data and customer segmentation generates better outcomes.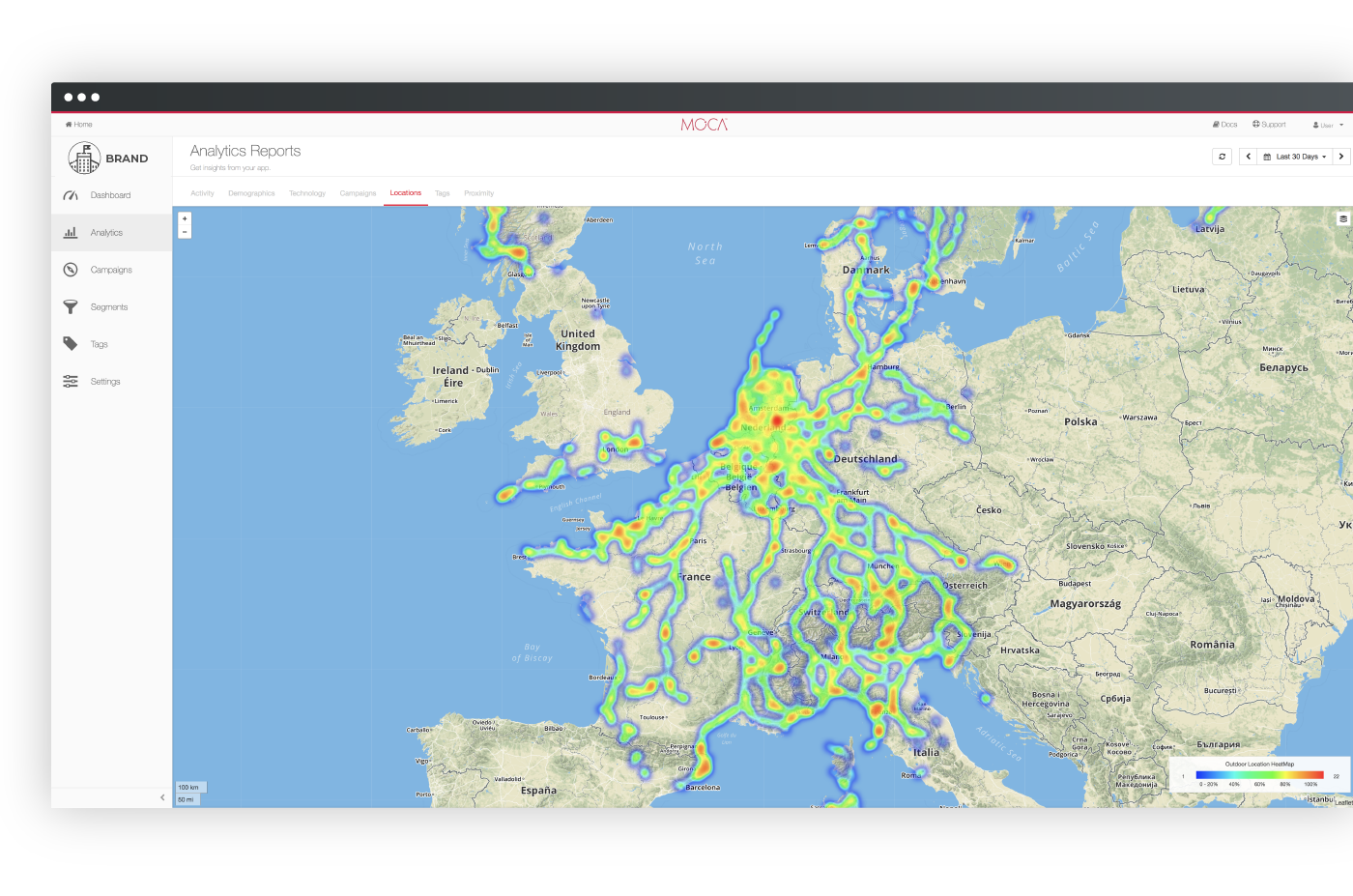 Meaning that making data-driven decisions is the most effective approach to improve the user experience and increase consumer acceptance to location-based services. Apps are no longer a copy of a mobile web on the home screen of the user, they are nowadays a really powerful marketing tool which can be used to better understand customer behavior (for anticipating their needs), encourage more loyalty, improve customer experience and increase mobile conversion.
There is a lot of work to be done in this area to ensure that location services are used in ways that benefit users. A good way to start is by understanding the technology and its purposes to the end user.
Best Practices for privacy
Most consumers accept sharing their location or don't seem to care as long as they perceive that they are getting some value in return. So, brand apps and marketers should understand the importance of being clear about what is done with consumer data and what they offer in return.
Improve User Experience: As with any new technology, it's important to alleviate users' fears about their privacy with a good UX. Instead of just using the default location permission dialog box, it's important to tell the user why you want permission for their location with a full description. See image below.
2. Privacy Policy: Provide transparent data privacy policies to build trust and brand loyalty across all your channels. It details your company's views and procedures on the information collected from users. See an example.
3. Opt-out option: Provide consumer with the choice to opt-out of the program anytime. Mobile users with any concerns can easily opt-out of participating and delete all of their existing data from the servers. See an example.
4. In- app privacy controls: Create privacy settings inside the app to allow users to enable or disable specific actions regarding data collection and location information. See image below.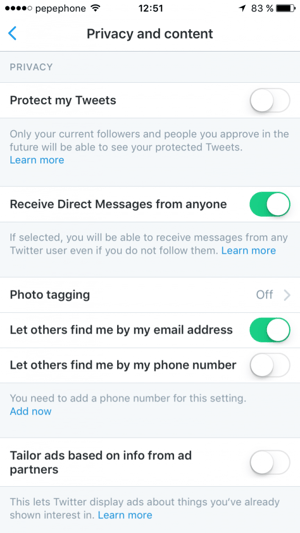 Conclusion: Quality and No SPAM
The opportunities that mobile offers for growth and new business models are amazing but the bombardment of irrelevant messages and notifications causes a loss of the added value we want to give our users and customers. It is important to keep in mind that it is entirely up to the user whether or not to receive location-based services. And if accepted, they can be disabled at any time.
It is in the marketers hands to make good use of proximity marketing tools, and not only deliver promotional messages but also give useful information to their users. For example, in a trade show, attendees can be guided through the venue and receive relevant information such as alerts for upcoming conferences and last-minute changes, thereby streamlining the registration process, enhancing networking opportunities and a whole lot more. And organizers can improve communications with attendees, reduce printing costs and carbon footprints, increase exposure for sponsors, drive traffic to premium stands and collect data to identify the most visited areas in order to improve the layout of future events.
All these actions need the users' permission; they need to install the app and opt-in for location services on their device. So keeping a clean channel with only relevant content is the key for greater user engagement.
Click here to learn How to use location technologies to engage mobile users