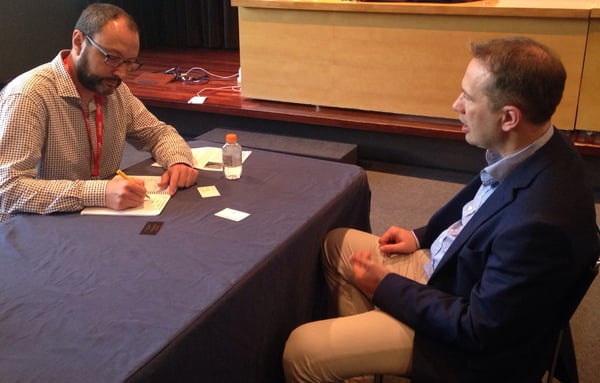 Oleg, our CTO, being interviewed by a journalist of l'Econòmic at the AWS Summit
Yesterday we were one of the startups which participated at the Amazon Web Services (AWS) Summit in Barcelona. The event is hosted by several cities around the world and it gathers entrepreneurs and startups which use the AWS for their projects or which are planning to use in the foreseeable future.
Amazon Web Services is a cloud platform which provides several services such as database storage and compute power. It's currently used by a wide range of firms, from large companies like Nike to startups like Airbnb.


The Summit started with Jeff Barr's keynote re:Invent. Barr is the Chief Evangelist of AWS and he highlighted the fast development of the cloud technologies since 2007.
He also presented some of the services they've recently released:
QuickSight: A cloud-powered business intelligence service

AWS Snowball: A petabyte-scale data transport solution

Kinesis Firehose: A tool to load streaming data
Bill Murray, Director of AWS Security Programs, discussed about security of the cloud technologies and the services and tools they offer to companies.
There was also a hands-on labs area, where everyone could easily learn to use the several AWS available. It was really helpful for those firms which are planning to use a cloud service regardless their previous knowledge about it.