Airlines are continually striving to deliver a seamless passenger experience. All of us that travel, whether it is for business or leisure, look forward to a day when we enjoy the journey almost as much as the time at our destination.
Today's global passengers carry a smartphone when they fly. The growth of personal mobile technology is ushering in a new era of passenger-centric services. As this technology is reshaping the traveler journey, the vast majority of airlines plan to invest in location-based services over the next 3 years.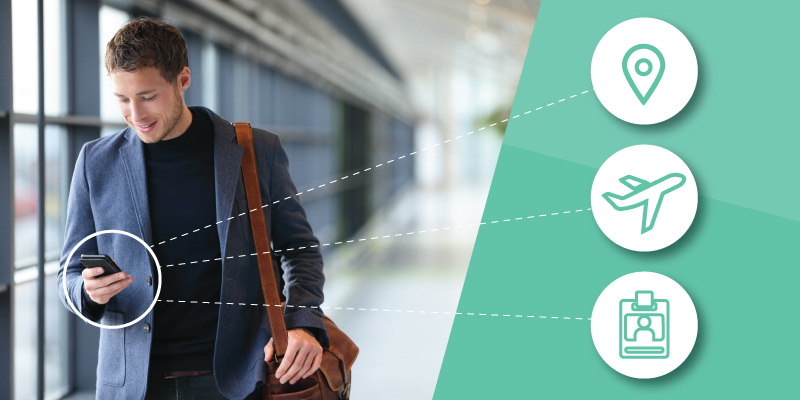 The Airline Perspective
Airlines have long battled the customer view of the airline as a commodity, where airline choice is based solely on price. Investments in aircraft amenities and ancillary service offerings are ways the airlines are fighting this perception. Nowadays, airlines want to offer services to passengers based on the value of them as a customer. This goes beyond a simple loyalty status, it is the ability to offer different services based on traveler behavior, purchasing data, location information, trip persona (e.g. traveling on business versus with the family), etc. Understanding the particular persona of the passenger is important as needs on a business trip differ from the needs of the same passenger traveling on holiday with their family. For example, the business traveler may benefit from purchasing a lounge pass, whilst this may be impractical if they are traveling with their family.
To match the appropriate offerings to the right customer and his particular trip persona, it is essential that a total 360-degree view of the passenger be known throughout every step of the traveler journey. Understanding traveler behavior and delivering personalized offerings are key steps to convert travelers into frequent customers, lead up-sell opportunities and increase customer loyalty.
The Passenger Perspective
In today's environment of instant information, consumers expect to be constantly informed by connecting to a variety of sources whilst maintaining contact with their social networks.
Research on passenger dissatisfaction reflects the obvious issues that make air travel difficult. According to SITA report, 85% of passengers surveyed had a positive travel experience for their last flight, up from 80% in last year's survey.
In particular, more passengers have a positive experience in the early steps of the journey, such as booking, check-in and getting their boarding passes. However, frustrations still exist around the security screening, passport control and bag collection. Lots of these frustrations stem from a lack of information and poor communication between the airline, airport and the passenger. Clearly, from a passenger perspective, there is a need for improvement in these areas.
Furthermore, over 90% passengers expressed interest in using new mobile services such as flight updates, bag collection updates, scanning their mobile phone for access, using their phone for ID, airport maps and directions.
To keep pace with the expectations of the customer, airlines need to embrace location-based technologies to connect more effectively with passengers and provide relevant and compelling travel experiences.
Who is using location-based services?
Lufthansa airline
German airline Lufthansa is using Bluetooth beacons installed across Munich Airport to deliver special offers to passengers and enable them to use their mobile phone to book and buy access to its business lounge as well as purchase upgrades from economy class to business class.
For example, when customers have activated the location-based services on their smartphones, Lufthansa can refer them via the Lufthansa app to push exactly the offers and services relevant to their current location, in this case, customers in Munich received an offer for entry into the Business Lounge for €25.
Another example is a personalized offer, a Lufthansa Economy Class customer is able to purchase an upgrade for Business Class and this has already been implemented in short and medium-haul flights and is currently being tested on five long-haul flights.
Virgin Atlantic airline
Virgin Atlantic has started its trial of iBeacon technology in the Upper Class Wing at Heathrow airport, which will allow premium passengers to receive personalized notifications and offers via their smartphones. These passengers will be the initial few to gain a first-hand experience of Apple's iBeacon technology, which uses Bluetooth Low Energy and geofencing to provide a connected service through their airport experience.
For example, an Upper Class passenger approaching the private security channel can receive a notification for their phone to open their electronic boarding pass ready to be scanned by security. In the main area of the airport, passengers using the service will receive special partner offers, such as 0% commission as they pass the MoneyCorp currency exchange booth.
Travel is no longer about simply moving between locations or organizing trips, it is about building a 360-degree view of passengers to create unique and memorable experiences tailored to their individual stated needs and preferences. Embracing location-based technologies will transform the passenger experience and deliver value to airlines.