The mobile technology is reshaping the traveller journey and the vast majority of airports are planning to invest in mobile services to ensure a better travel experience. According to SITA's latest report The Future is Connected, over 90% of passengers expressed interest in using new mobile services such as flight updates, bag collection updates, scanning their mobile phone for access, using their phone for ID, airport maps and wayfinding assistance.
Airports have been a fountain of opportunities for marketers since the very beginning. Passengers are practically the definition of a captive audience. Vacations make people feel more relaxed and comfortable with spending their money in duty-free shops, airport lounges, cafes and other retail shops. Airport businesses have the unique opportunity to offer some promising deals while passengers are nearby.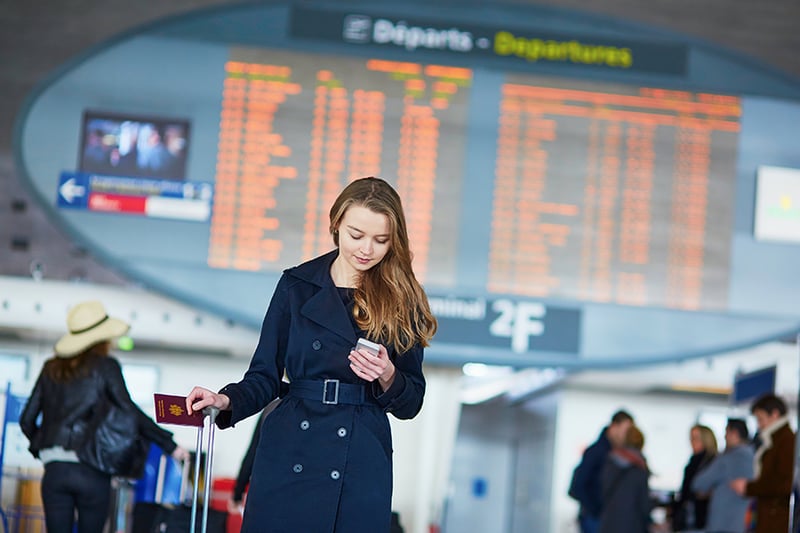 Marketers definitely need to embrace location-based services to capitalised the moments when travellers are walking around the airport. Proximity marketing is the logical extension of this idea, as it seeks to reach a consumer segment that is increasingly reliant on their mobile devices for searching, shopping and more.
What is Proximity Marketing?
Proximity marketing uses location technologies to deliver relevant and personalised communications to your customers at the right time and place through a portable device (smartphone, tablet, wearable). For example, at an airport, the use of beacon technologies allows passengers to receive flight information, nearby stores advertising but also boarding calls, a departure countdown and their electronic boarding pass.

Navigating the Maze
Navigating the maze of an international airport can be very difficult, especially for an inexperienced traveller. Airports are trying to ease the burden on passengers, in order to make the travel process as smooth as possible but nowadays it isn't enough.
Leveraging indoor position technology, the airport app can provide the traveller with a map on their smartphone, as well as information about their flight time, gate number and boarding pass. Having all of this information updated in real time allows the passenger to simply follow the annotated map, check in with their phone and board the plane in one smooth flow. No longer will passengers need to print boarding passes, try to decipher maps hidden on airport walls, and struggle to find the gate.
Understanding the passenger behaviour
An airport can generate an immense amount of data every minute. Marketers and the travel industry itself could use this data to increase operational efficiency while improving the traveller journey. This data allows to discover flow patrons inside the airport and the creation of indoor heat maps which are very useful to identify the most and least used areas, optimising passenger flow and services.
Understanding traveller's behaviour also generates new revenue opportunities to the businesses installed inside the terminals, increasing the commercial value of their locations. Airports should extract business value from all the data gathered and by using proximity marketing platforms they are able to better segment their users and increase customer loyalty. Passengers will also benefit because they will receive information that is personalised, relevant and in accordance with their profile and traveller preferences.
How Does It Work?
These beacons are scattered throughout the airport in useful places, then a location-based cloud platform provides real-time information to passengers and contextual services to improve their journey through the airport. Additionally, they can be used to offer location-specific advertisements. For example, when in close proximity to the duty-free shops, the application might provide an advertisement about the deals on perfume, liquor or any other items.
When in nearby the traveller's boarding location, they might be prompted to stop for food before a long flight. Another examples that can benefit from proximity marketing are the airport lounges and other wellness services. If airports are able to target a passenger in transit between long flights and send him a discount lounge voucher, right at the moment he is near one, the benefits perceived will be huge and the probability to use it will increase substantially. This method of displaying personalised communications with real benefits according to context when passengers are close to different venders, is a very effective marketing technique.
Beacons are used to detect nearby mobile devices, but if the airports want to send more general engagement messages, they can take advantage of geofences (which use GPS and other location information from smartphones). For example, they can establish a geofencing that covers all airport arrival gates and send a welcome message to arrival passengers with a city guide to be downloaded or any other airport useful information.
Who is using location-based services?
Miami International Airport is the first international thoroughfare to roll out complete coverage for this service. They have placed beacons at entrances, valet parking points, check in, baggage claim areas, and more. This coverage is intended to provide full-service support for passengers to get through their airport quickly and smoothly.
Hamad International Airport has also capitalised on this new technology and they have rolled out a unique marketing strategy to incorporate this new opportunity. When passing duty free shops, people with the airport application will receive customised advertisements directly on their smartphones.
Tokyo Haneda Airport is now using this technology to optimise the efficiency of their staff as well as support passengers. In order to oversee the massive amount of employees and efficiently delegate tasks, the management is now using this beacon system to track where employees are and assign them tasks based on their whereabouts. This allows Tokyo Haneda to complete tasks much faster, which ultimately leads to higher productivity and higher profits. In the hyper-competitive airport business, this sort of technology is what airlines and airports will need to stay relevant.
John F Kennedy Airport has paired this technology with special displays to communicate wait times, departures and other essential information to passengers. San Francisco international is using this technology to help visually impaired passengers navigate the space more easily, through the use of voiceover phone functions and other specialised services. This highlights another use of the proximity marketing platforms that will be game changing. The visually impaired and other handicapped people are increasingly seeing technology help them navigate the world and get around unassisted. For a disabled person, this is an incredible advantage that has only been available very recently.
Conclusion
Location-based technology and their integration in smartphones will change how passengers interact with airlines and airports. Moreover, some of them have already introduced this technology with positive results, and there are considerable marketing opportunities here for the savvy and forward thinking brand.