In January 2018, online retail giant Amazon made headlines with the official opening of Amazon Go, an advanced convenience store that the company took out of beta status after about a year of testing. The customer experience that Amazon Go offers is like nothing the public has ever seen before; this is a smart store with no checkout lines and no cashiers, and the technology behind it includes a network of video cameras that use computer vision and "sensor fusion" during the shopping process, a combination of many sensors such as weight sensors in the shelves to track individual products.
The Amazon Go store is quickly becoming a case study about the future of retail as we know it. Everything from cutting-edge technology to advanced algorithms has been implemented in this futuristic Seattle convenience store, and it is important for business owners to know how Amazon is shaping the future of the retail industry. When shoppers enter an Amazon Go store, they first install a retail app on their smartphones; once this app is linked to their Amazon account, all they have to do is pick items from the shelves and walk out of the store to complete their purchase transactions.
Now, imagine we combine all these experience with proximity technology. Let's say a frequent shopper who enjoys healthy snacks walks near the potato and corn chips aisle; at this point, beacons conveniently placed in the shelves could send a location-aware notification about a special offer on organic plantain chips. This shopper may have come into the store only to buy diet soda, but the location-aware notification may convince her to take advantage of the offer and add chips to its shopping basket.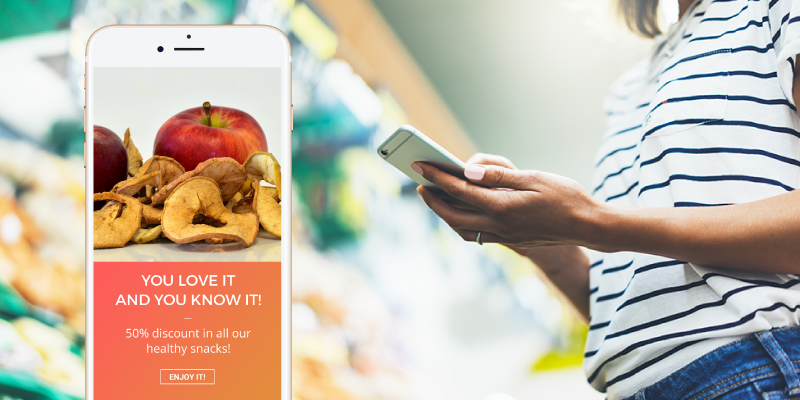 Why the Location-Aware Retail App is the Future of Shopping
According to market research firms GO-Globe and comScore, mobile shoppers first surpassed their desktop counterparts in 2014, and their numbers have been on the increase ever since. One key aspect for store owners to consider is that majority of smartphones on the market these days are equipped with GPS functionality, which means that they can certainly empower a retail app with location-aware experiences.
Location-based marketing can do a lot more than just send smartphone notifications to customers who are already in the store. One of the most enticing use cases involves improving customer experience by delivering value-added content such as coupons reminders in order to use them when you're inside the store, alerts for new products, promotions and app features. Luxury retailers in Europe are already using location-based technology to allow shoppers to summon a personal assistant with just a tap on their smartphone.
How Beacons and Geofencing can Empower Retail Apps
The most common retail store goal of setting up Geofencing, virtual boundaries in a geographic area, is to drive consumers to come inside the store; the idea is to seduce them on their smartphones by sending information they could consider "interesting" such as special promotion, flash sales, promotion of new collections, etc. Once they are inside, a Bluetooth beacon can be considered to close the deal. Let's say a geofence has been set up just outside of a fashion store to invite consumers to come; once the consumer is in the store and remains 5 minutes, a location-aware notification can be displayed offering a special promotion available only during its visit.