The NRF Retail's Big Show was an exciting event where retailers could observe and experiment all the new technologies for retail. Most technologies were focused on providing information about in-store shoppers' behavior in order to better understand them and improve customer experience.
Wi-Fi analytics and 3D video analytics among others were the main technologies showcased at the event. In-store analytics, predictive analytics, big data and customer behavior were the most used words. But, are all these technologies being used in-stores today? Or it is only a marketing buzz to attract retailers?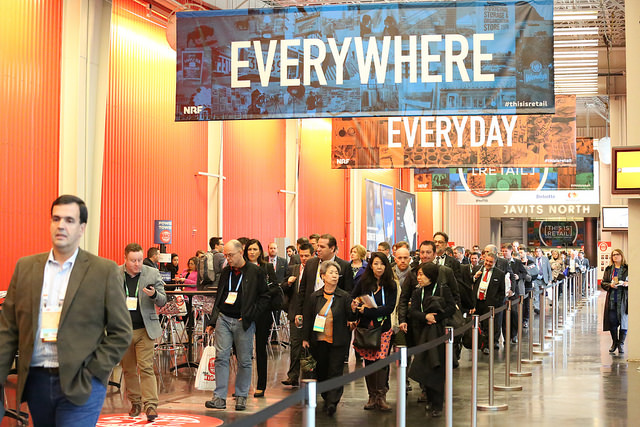 Customer's journey and its context are the key for retailers. When retailers understand who their customers are and what do they want, they are able to provide them personalized products and services. As a result, this turns into increased sales, so retailers look for new technologies to increase revenue.Buying a product is an experience by itself. The place and the moment when the customer decides to look for a product are relevant, because they can be at any place, be it at home, or at work, or even on the go, and they use online browsing to choose the right product, and it's only after that that they decide to buy, on-line or in stores.
When shoppers buy online some retailers are able to learn about their behavior. Companies such as Amazon learn about their interests on products bought online and recommend shoppers with similar products based on their profiles. My experience at physical stores as a consumer is that they don't know anything about me or my preferences.
However, in the physical world, mobile devices are able to collect data to learn about users. Location services and user activity within the apps are a great source of data to understand customer journey and profiles. Geo-location and beacon technologies have begun to be hot topics because they enable brands to actually learn about user behavior in the physical world. With these technologies in place, it is now possible to provide recommendations just like Amazon does online.
One example of this technology is Google Now. It provides services based on learnt patterns of behavior for every individual. -Go home? Average time on your frequent route is 50 min. We suggest you another route- Google technology is based on mathematics and data. Both things are available to everyone. For that reason, new startups and big companies are starting to develop intelligent systems for apps that learn from mobility and context.
For example, in retail sector, one customer that used to visit a specific mall every Saturday, begins to be a valuable client. People use to buy the same products, and visit their favorite places. If a user opts in to sharing their personal data it is possible to learn not only about their behavior, but also infer how similar people, thousands or millions, are going to behave. With mobile data from retailers' apps, it is possible to detect patterns, segment profiles and predict customer behavior. People in a well-defined segment usually have similar needs. Mothers with kids take advantage of offers in stores. Disabled people using wheelchairs could be reached with information about availability of elevators in malls or at train and metro stations, in real time. Here is the point where big data techniques and technologies are extremely valuable.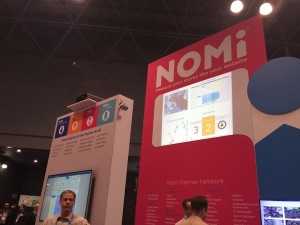 My conclusion from the experience in the big retail show is that all the techniques are mentioned and applied in an isolated context. They are being integrated to construct a complete customer journey for retail. Retailers are now testing hardware technologies in stores (Wi-Fi, beacons, 3D cameras) and although hardware is the way to obtain data, Intelligence for business is only at the beginning. Complete customer experience goes beyond the stores and hardware. Sensors are the eyes, and the brain that makes decisions, is under construction.
It is necessary to evangelize the market a lot. Big companies as Adobe, IBM and Intel among others are doing it. When retailers will be prepared, the next step will be to select the software to manage all the data (big data), in real time. The business value will be in the information extracted from the data and in marketing decisions driven by the data. It will be the only way to personalize offers and engage users. In that moment, the keywords In-store analytics, predictive analytics, big data and customer behavior will have sense for business because will be real implementations focused on customer experience. The customer is the key.