Dating back to the concept of the "Four P's of Marketing," using Product, Price, Promotion and Placement as the primary pillars of marketing, there is one more "P" - "Proximity"- that we consider is a must have in today's marketing strategy, as it represents the final connection between brands and consumers.
What is proximity marketing?
Proximity marketing is an action or bundle of actions that use location technologies to communicate and connect with customers via their portable devices. These actions could be any kind of content (text, video, HTML, passbook, etc) and will be trigger with specific location conditions. At events, for instance, attendees could receive a message to collect their digital badges at specific entrances.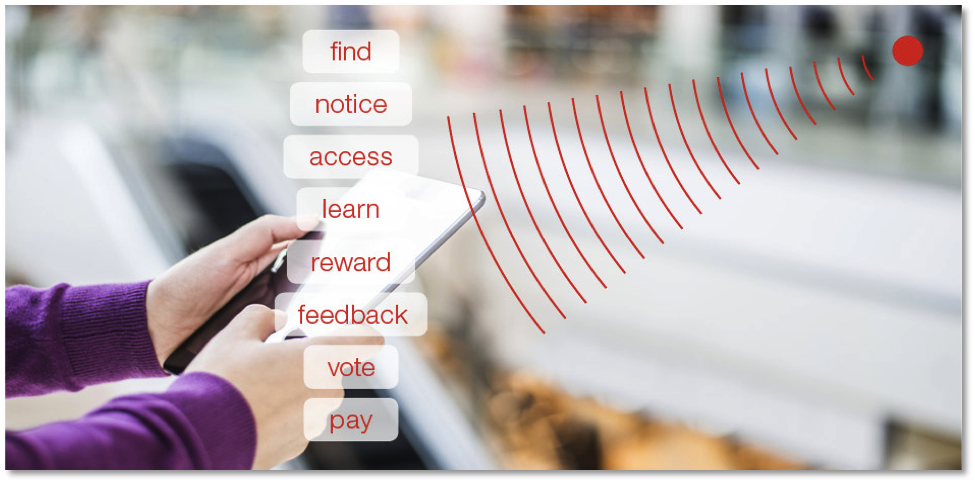 The location of a device may be determined by:
Bluetooth

: With Bluetooth-enabled devices and mobile users who have expressed a willingness to receive proximity services ("opted-in"), leading retailers and brands deliver proximity marketing campaigns when the target is in a certain place. It allows customers to view customized rich media, receive targeted special offers, share experiences, all through their smartphones.
Geofencing

: Use the GPS and other location information from smartphones. It defines a virtual boundary around a real-world geographical area. In doing so, a radius of interest is established that can trigger an action in a geo-enabled smartphone.
Mobile Browser

: Internet-enabled device with coordinates enabled by the user via mobile browser. Visit a company site on your mobile device while you're in proximity of a location, and you can geo-target dynamic content to that individual whether or not they're on your Wifi.
Wifi Hotspot

: It is used by retailers to detect the presence of customers in the store, or in the surrounding area. If you've ever logged into an airline connection or even a Starbuck's, you've witnessed dynamic marketing content that's pushed directly to the user via web browser. Learn more about differences between Wifi vs Bluetooth

here

.
NFC

:

Near Field Communications

is a technology embedded in the latest mobile devices that allow secure communication (with confirmation) between the mobile device and a transmission device.
Beacons and Geofencing
There are 2 technologies whose use has recently been growing: beacons and geofencing. Beacons provide better information in indoor locations while geofencing is a better option for outdoor locations.
Geofencing defines a wide area of interest and when customers enter that area they will receive a notification through their mobile devices. On the other hand, beacons technology requires to be near a beacon in order to receive notifications. A beacon is a small Bluetooth low-energy sensor that can be placed anywhere, and is detectable by nearby mobile devices. Smartphones then receive the beacon signal allowing mobile users to receive proximity-based notifications.
For instance, retailers can offer a discount of a product when a customer is near to a certain beacon. In addition, the data collected by these Bluetooth sensors may be used to create heat maps in order to identify the most visited areas or stores, and other metrics such as frequency, dwell time, number of visits to the store and so much more.
The difference between Push Notifications and Proximity Notifications
The difference between these two types of notifications is that proximity campaigns are triggered by location conditions (i.e: if a person enters or quits a place when a person enters or leaves a beacon zone). On the other hand, push campaigns don't need location conditions, they can be triggered at any moment to your users.
Proximity to increase ROI and mobile conversions
Proximity data provides crucial insights on users' interactions with mobile devices and the context of it, allowing everything from retailers, hotels, event organizers and more, to better understand customers' behaviour, which increases the chance of anticipating their needs, encouraging more loyalty, improving customer experience and increasing mobile conversion.
Importantly, all of these factors combine to make Proximity Marketing a very effective tool for generating higher ROI for businesses and advertisers.
Furthermore, according to BI research, by 2018 there will be 4.5 million active beacons, which means that many brands will get valuable insights about their customers and adjust their business accordingly. It means that in order to stay competitive and increase ROI from mobile marketing campaigns, marketers should embrace the innovation and adopt proximity solutions to benefit from it.