Geofencing marketing is the ultimate tactic to engage mobile users. Leveraging mobile location data, mobile marketers can promote products and services and customers can receive personalized content based on their interests and needs. Through contextualized mobile marketing campaigns, marketers can transform existing apps into powerful marketing tools that improve user experience, drive visits to stores and boost revenue.
What is Geofencing?
Most
people spend their time in mobile apps
, presenting another potential source of engagement. The Geofencing technology available today also presents many opportunities for marketers looking to boost their return on investment.
Geofencing marketing is an example of a real-time
location-based marketing
tactic that uses geolocation data to target users within an established geographic area and delivers content based on where they are or in what locations they have previously visited.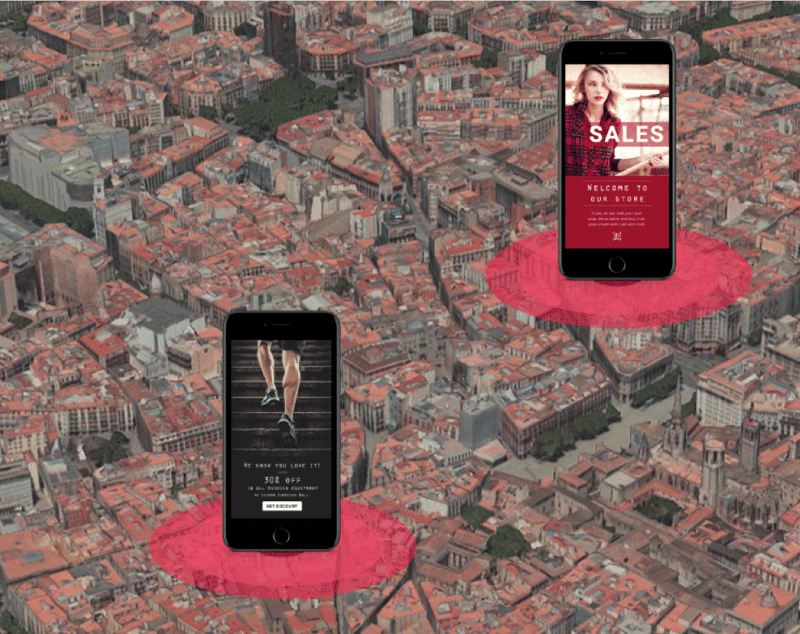 How does it work?
The Geofencing Marketing purpose is to detect the user presence within the fence. It works in order to attract customers in a specific area. When they are at least 50 meters away from the place, they may receive mobile notifications about that particular place.
3 simple steps to set up geofencing marketing campaigns:
Set up your physical places using Geofences.
Deliver contextualized notifications

when users enter, leave or dwell in specific locations.

Use location analytics reports to measure campaign effectiveness and improve performance.
Why do businesses need to use geofencing marketing?
Geofencing is an effective way to reach and connect with your users through mobile at scale. Not surprisingly, location-aware notifications are found to be 10x more effective than standard push notifications, according to our last study. Mobile geofencing incorporates location intelligence and behavioral data into your app in order to improve audience segmentation and the delivery of relevant notifications. It has proven to be an effective tool because it is personalized, it reaches the audience timely, and it is very targeted.
Some use cases for geofencing marketing:
Drive visitors to your locations by adding geofences in POIs (Points of Interest) like airports, Hotels or touristic locations and send them engaging notifications that create urgency to convince them to visit your business.
Survey customers when they leave your POIs

. By getting feedback from your customers, you will have better knowledge about your business and the in-store experience. Don't forget to give incentives or rewards to persuade to complete the survey.

Intercept customers at competitors locations

by adding geofences to competitors locations to influence consumer behavior by delivering a better offer if they visit your store. Using this tactic, then you can also know what segment of your customers frequent your competitors' businesses.

Retarget customers

who have visited a specific location or engaged with your campaigns to deliver a special offer or promote your loyalty program.
Who is using geofencing marketing in their mobile strategy?

Euroleague Basketball (EB)
Euroleague Basketball (EB) is a global leader in the sports and entertainment business. It manages and organizes the continent's two premier men's basketball competitions, the Turkish Airlines EuroLeague and the 7DAYS EuroCup.
Goals
Increase fan engagement

through the app

Test selling

sponsored marketing campaigns

using geofencing
Solution
MOCA allowed to Euroleague app to send relevant and timely information about the event according to the user profile, location, and context. In addition, main sponsors were able to send contextualized marketing campaigns to fans, increasing their visibility during the event.
Results
Thanks to MOCA, the Euroleague is now able to

generate new revenue by enhancing their marketing portfolio of services

.
Loyalty App
The Loyalty app provides deals and rewards and has more than 600,000 monthly active users. It offers a broad range of deals from over 100 partners including brands on fashion, entertainment, supermarkets, wellness, travel, and telecommunication services.
Goals
Drive footfall traffi

c to business partners.

Increase

the number of

transactions

through the app.
Solution
The loyalty app was connected to MOCA SDK and their CRM was integrated through MOCA API. Thanks to MOCA, the Loyalty App could send automated and personalized mobile notifications to all their members based on their location, app behavior and other customer information gathered from the CRM.
Results
Using MOCA, the Loyalty App was able to digitize the physical space and provide new marketing services to its business partners.
Traditional mobile notifications rely on non-specific targeting, which leads to low conversion rates. Geo-fencing is all about getting the right products, in front of the right people, at the right time and location.
Are you interested in adding Geofencing Marketing capabilities for your app? Request your Free Demo here.