Robots. Computer vision. Artificial Intelligence to personalize customer experience. These are just some of the hot topics in retail technology, and they are happening here and now.
MOCA attended the first edition of the Retail&Brand Experience World Congress (RBEWC) celebrated here, in Barcelona, to showcase its mobile engagement technology as well as be inspired by others cutting edge technologies applied to retail. Hosted in the Fira Barcelona Gran Via venue, the event was running for three days. In these three days we were greeted by robots, experienced advanced facial recognition, screens that could detect your mood and even learnt about a self-checkout technology that can "see" what products you're trying to buy, making checkouts faster and more efficient. Let's see these four technologies that are helping the retail industry to transform the customer experience.
1. RobinBrick
At RobinBrick stand, we spoke to Hernan, CEO of the company and asked him about the challenges that retail industry is facing right now. He says:
"e-commerce has set new standards for the retail industry. Brick and Mortar is now making efforts to adapt to the same levels of customization, analysis, and testing. That means providing to the customer what the customer needs, independently of which channel, in a rapidly changing environment. That is the only way to reach a truly omnichannel strategy."
And he added, technologically that means not only new ways of visual merchandising integrating adaptive music, videos or the so-called digital signage but also being able to adapt the product offering and service to the customers at any given moment to any given customers. The sales staff here plays a major role since they capture most of the customer information beyond any online analytics tools but the process to transform this data into actions must be reinvented. Big data, also needs to be rethought, which data do I need and for which purpose. Managers should not be continuously repeating tedious analysis but focused on creative solutions on how to design and implement strategies to improve results.
What does RobinBrick offer to the retail fashion industry?
RobinBrick is an advanced analytics solution for the retail industry. It connects to multiple data sources and automatically delivers optimization insights to make implementation fast, easy and trackable. With artificial intelligence, RobinBrick monitors and ranks thousands of data points and manages priorities avoiding time-consuming, manual analysis. RobinBrick produces intuitive and meaningful reports across the organization adapted to each role using different formats and devices from a managers dashboard to a gamified app for in-store sales staff.
2. PROPPOS
At PROPPOS, a cutting edge computer vision Self-Checkout, we had the chance to speak to Nil Salomo, CEO and co-founder. He shared with us his thoughts regarding the future of restaurants and the food industry.
"In a near future people will go to the stores for two reasons: to have a great shopping experience, that will be a combination of technology and people. The second one is just for convenience. If you have to buy something boring like a toaster you will do it online."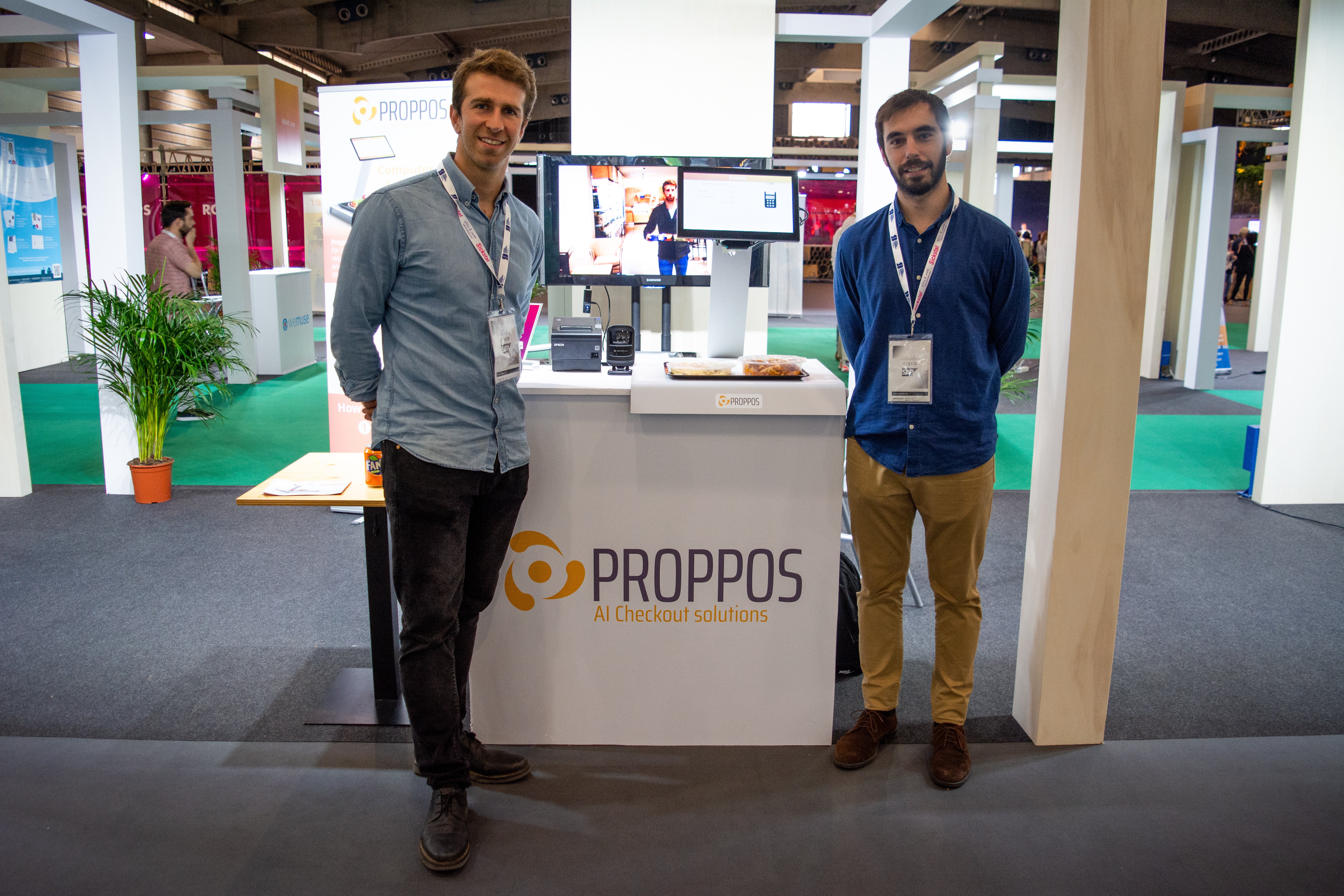 What does PROPPOS offer to the restaurants and food industry?
PROPPOS offers fast checkout solutions powered by artificial intelligence helping stores and restaurants to deal with peak times and offering a fast shopping experience for busy shoppers.
3. PAL ROBOTICS
At PAL ROBOTICS, we interviewed to Judith Viladomat, Marketing and Communications, whom had their REEM and StockBot meeting and greeting the attendees. Even dancing with them!
"The Digital Transformation is becoming an integral part of the retail vertical as the sector is constantly evolving and more adaptive to new technologies. Brick-and-mortar shops and e-commerce are merging, becoming fully integrated. This causes new situations such as using the physical shop as a storage warehouse for the online shop, which requires a more accurate stock control than before. That's why retailers' infrastructure is using innovative solutions like Robotics, Big Data analytics, and Artificial Intelligence."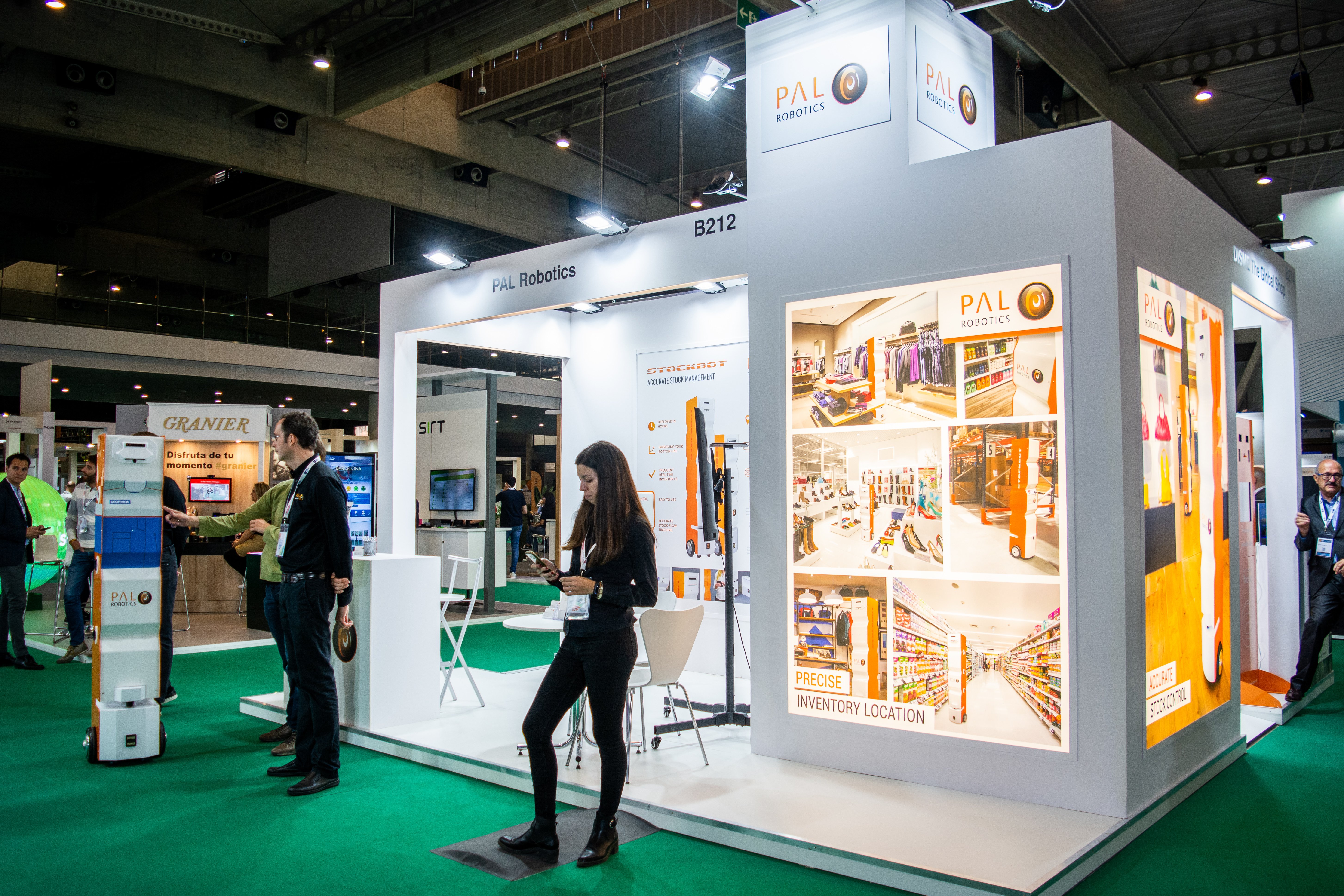 What does PAL ROBOTICS offer to the retail industry?
PAL ROBOTICS offers at this time two main elements that can be a big advantage for retailers. Our StockBot robot automates inventory-taking and creates a 3-D map with the products' location. This way, StockBot ensures a daily and exhaustive control of the stocks as never before in retail, enabling businesses to smartly manage their stock and have reliable and updated new sources of data for taking better decisions.
We also provide humanoid interactive robots that deliver a unique customer experience and help top retailers to stay ahead in the sector.
4. MOCA Platform
As for us, we presented our mobile engagement technology. Powered by Big Data and AI technology, it uses geolocation intelligence and in-app analytics to understand your customers via mobile and web, so retailers can deliver a more personalized mobile experiences including push, in-app and location-based notifications.
Nowadays GAFA (Google, Amazon, Facebook and Apple) highly employ location technology for all data driven decisions, but years of R&D and millions in investment is not an easy hurdle to overcome. MOCA offers a solution that lets your app skip those R&D investments and, in a matter of days, acquires marketing knowledge while delivering personalized customer experiences.
Watch the video and listen what our CEO, Maria Fernanda Gonzalez has to say about the future of retail and how technology can help them to compite with GAFA effect.
There are a lot of retail technologies that are helping to transform the customer experience and have an immense variety of options just two taps away. The GAFA (Google, Amazon, Facebook and Apple) effect is leaking to all verticals but fortunately retail industry is investing strongly as we noticed in this first edition at the RBEWC event.

Did you see other interesting retail technologies at the event?